Need a semi truck wash? ALE Truck Beds now offers truck washing services and trailer washouts at its new location. We are conveniently located at 14742 Lincoln Way E, Dalton, OH 44618.
We offer a complete line of tractor, truck, trailer, and RV washing services. We offer competitive prices. No job is too big or too small. Yes, we can also hand a bus wash.
When you need your truck washed, time is money
Our crew understands you are not making money when you are sitting in a line 12 trucks deep waiting on a wash (that's two hours you are not getting back). Our staff works hard to get you a thorough washing fast.
When you choose ALE Truck Wash, we will get you back on the road as quickly as possible. One recent customer said of our staff, "These guys are aggressive. They get after it."
We strive hard to provide top-notch customer service.
ALE Truck Beds' workers handwash your truck
When you trust ALE Truck Beds with washing your RV, truck, or trailer, it will be washed by hand. We do not use an automatic wash system. We want to make sure we get every part of your rig.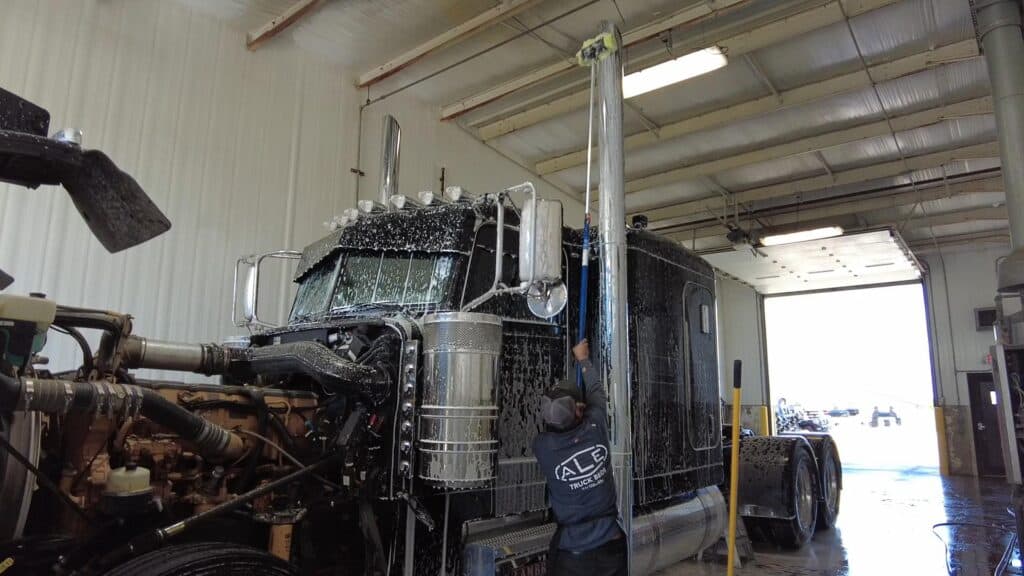 Why do trucks need to be washed?
Trucks need to be cleaned because they collect dirt from roads and highways. Dirt can cause rust and corrosion problems because it absorbs water and holds it against the metal on your vehicle.
Ben Clark of W.H. Lambright & Sons hauls to a lot of scrap yards in Ohio, Pennsylvania, Kentucky, Indiana, Michigan, and New York. When he pulls into a yard, his rig kicks up the 2 to 3 inches of dust, and then fans kick on, moving the dust and dirt even more.
"You have to keep up maintenance, and you can't do proper PMCS (preventative maintenance checklists) on a dirty truck," Clark said. "You can't find a leak if you can't see it. If it's dirty, you can't see it."
How often should you get your truck washed?
The answer varies depending upon whom you ask. Some suggest getting it washed every four to six weeks, and every two weeks in the winter.
For Clark, it's at least every week to minimize maintenance costs over the long haul.
Some choose to have their trucks washed as needed, while other drivers like to have a regular schedule. The issue owners run into when their semis are washed as needed is dirt can become caked on and bond with the truck. While the truck does not appear dirty, it is.
If you regularly schedule washings, then you will ensure your investment is properly being maintained and cared for.
Remember your trailer, too
While an exterior truck wash will help with keeping your commercial vehicle looking new, it's important to have a clean trailer, too, especially if you typically change cargo a lot.
By getting your flatbed trailer washed or getting a trailer washout, you are making sure your equipment is clean and sanitary.
Some industry leaders recommend a spray-out every week and a deeper cleaning with a hand brush every couple of weeks. Either way, we have you covered.
Hours
| | |
| --- | --- |
| Monday – Friday | 6:30 am – 5:00 pm |
| Saturday | Closed |
| Sunday | Closed |
Trucks
Tractors
Sleeper Cabs
RVs
Trailers
Flat beds
Livestock
Van
Dump
Tarp
Hopper bottom
Reefer
Washouts